It is now clear that COVID-19 has presented the global economy with an unprecedented challenge. In the United States and Europe, efforts to control the virus through lockdowns are likely to lead to the largest decline in economic activity since the Great Depression in the US and Europe.1 And while safeguarding human lives is imperative, the toll on human livelihoods will also undoubtedly be significant.
Asian nations, like others, are focused on this dual mission. In these early stages, it is difficult to quantify the economic impact. McKinsey simulations suggest that in some likely scenarios, real global GDP may decline by 4.9 percent to 6.2 percent from the fourth quarter of 2019 to the second quarter of 2020 The World Bank's latest report paints a bleak picture: under a worst-case scenario, East Asian economies would contract by 0.5 percent, China's projected growth would slow to 0.1 percent, and 11 million people across the region would be forced into poverty
It's important to remember that this, above all, is a humanitarian challenge. Asia is home to 60 percent of the world's population—and to around 35 percent of the world's poorest people, according to 2019 World Bank data Pandemics hit the most vulnerable hardest. Asia's emerging areas, particularly India and the nations of Southeast Asia, face unprecedented risks.
Yet as a region, Asia has come through crises before and emerged stronger from them. We have reason to believe it can do so again. In a postpandemic world, can Asia's nations and companies play a major role in defining the next normal?
Asia's resilience to disruption
In 2018, McKinsey Global Institute research on developing economies around the world singled out 18 long-term and recent outperformers. Asia figures prominently on the list, with all seven of the economies that achieved or exceeded 3.5 percent real annual per capita GDP growth for the entire 50-year period of the study: mainland China, Hong Kong, Indonesia, Malaysia, Singapore, South Korea, and Thailand. Even countries hit hard by the 1997 Asian financial crisis returned to positive per capita GDP growth within a year or two. Having absorbed their lesson, they were better prepared for the 2008 global financial crisis.
In an increasingly volatile world, Asian companies have demonstrated dynamism, speed, and agility, which have all contributed to the region's macroeconomic stability. Asian companies have to be resilient: they operate in highly dynamic, fast-growing markets, against the same backdrop of digital disruption and rapidly evolving consumer demands that every organization currently faces. Today, 43 percent of the world's largest companies (by revenue) have their headquarters in Asia. The region's well-diversified, horizontally integrated conglomerates can pivot quickly in times of crisis.
The COVID-19 outbreak began in Asia—but so have early indications of containment, new protocols, and the resumption of economic activity. Although the risk of another outbreak remains, economic-activity indicators in China indicate that urban activities are returning to pre-outbreak levels. Traffic congestion and residential-property sales are close to where they stood in early January 2020, and air pollution and coal consumption have returned to 74 and 85 percent, respectively, of their levels on January 1.5 A recent McKinsey survey of 2,500 Chinese consumers indicates "cautious optimism"—a gradual regaining of confidence, which should increase spending. At this moment, strong public-health responses in China, Singapore, and South Korea appear to have been successful. Significant evidence indicates that the curve of cumulative confirmed COVID-19 patients in Asia is becoming flatter (exhibit).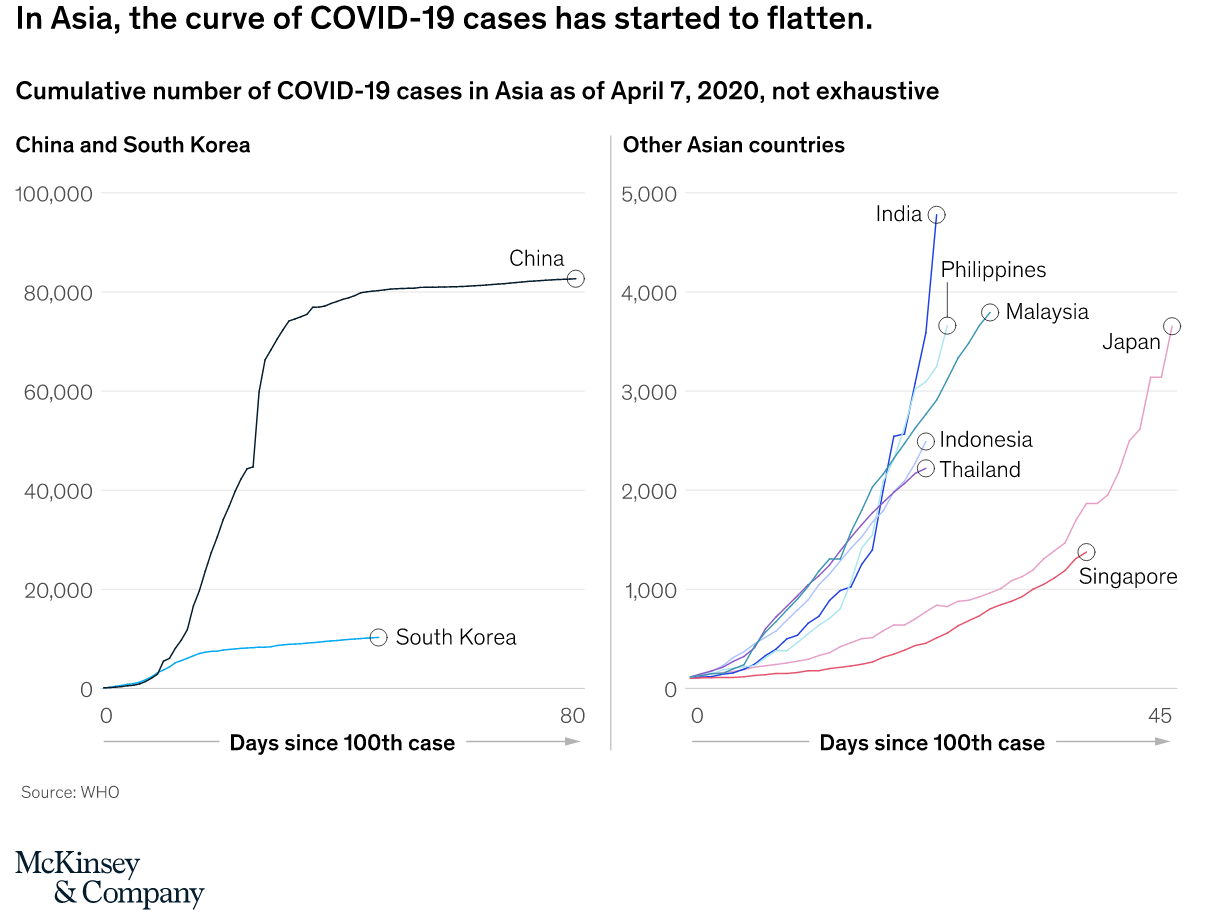 Southeast Asia and India are still bracing for the full impact, and a resurgence of the virus remains a possibility. Nonetheless, it's time to ask if the next normal could be emerging in Asia.
What will shape the next normal?
A shock of this magnitude will change business, society, and the global economic order in many ways. Contactless commerce, for example, could become the permanent norm for consumers as enforced behavioral change becomes an everyday habit. Supply chains may be reconfigured to remove vulnerabilities that have been exposed by the pandemic. Across all aspects of business performance, the crisis will reveal both weaknesses and opportunities to improve.
As our colleagues wrote recently, this "black swan" event will first test the resolve and resilience of all businesses. Some will become more productive and better able to deliver for customers. As Asia's corporate sector continues to mature and push ahead with digital innovation, we expect that Asia's businesses will have to reimagine themselves and prepare for reform. As companies in the region do so, they may be the world's first to shape the next normal. What will that look like? Here are four dimensions that could define it.
———————————–
Source: https://www.mckinsey.com/featured-insights/asia-pacific/could-the-next-normal-emerge-from-asia?cid=eml-web
Author:Oliver Tonby and Jonathan Woetzel