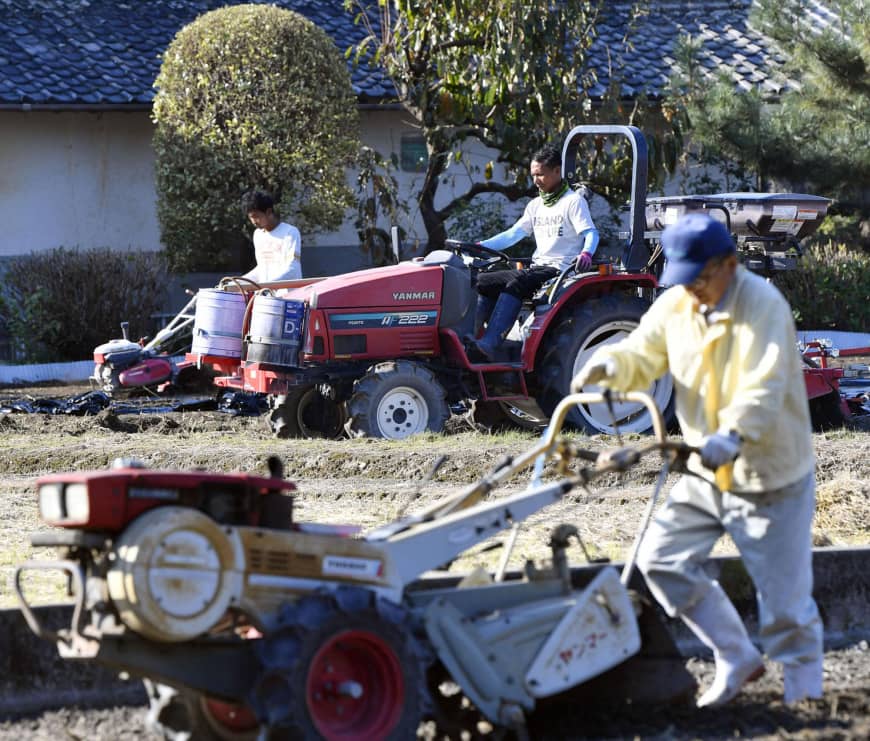 Indonesian trainees at a farm in Kagawa Prefecture | KYODO
A new visa program designed to lure more workers to Japan takes effect Monday, and government officials and industry leaders hope two new types will help alleviate the national labor shortage.
But whether businesses are prepared to accept them is an entirely different matter.
Companies and organizations interviewed by The Japan Times said they remain in the dark about many details of the new system and are still unsure whether they have the capacity to provide adequate support for employees who will be starting a whole new life in Japan.
Under the new system, up to around 340,000 blue-collar workers are expected to come to Japan to work in 14 sectors over the next five years.
The nursing care sector is slated to accept as many as 60,000 — more than any other sector.
The industry is crucial for the rapidly graying population and companies are hopeful the new system will help them out, said Go Tsurumura, an official from the secretariat of the Japan Federation of Kaigo Business Providers, an industry group.
And yet Tsurumura's hopes are tempered by a sense that, with the exception of some businesses with prior experience handling foreign workers, the nursing care industry overall "hasn't yet developed a basic system for supporting foreign caregivers" on the new visas.
An official at a Tokyo-based nursing-care provider who agreed to speak on condition of anonymity said his firm is looking to accept foreign workers through the new system but has no experience of this kind. So, whether it can provide enough support is a major concern, he said.
"They might feel homesick. In some cases, I hear they disappear," he said. Read More
Source: https://www.japantimes.co.jp/news/2019/03/31/national/foreign-workers-way-japanese-businesses-ready/
Author: MASUMI KOIZUMI, KAZUAKI NAGATA, and SATOSHI SUGIYAMA
Image Credit: Kyodo