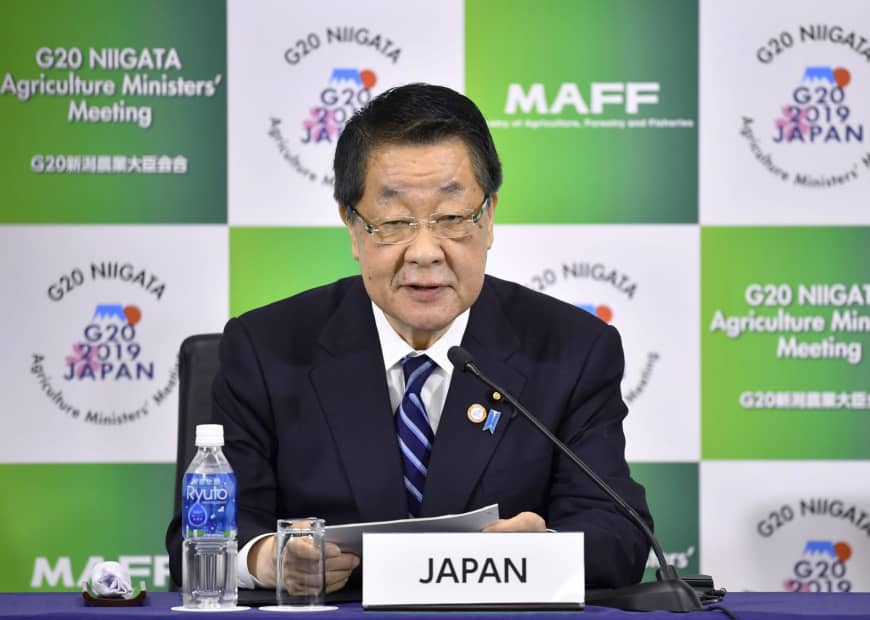 Farm minister Takamori Yoshikawa speaks during at a news conference Sunday in Niigata after a G20 ministerial meeting on agricultural issues. 
NIIGATA – The Group of Twenty Agriculture Ministers Meeting concluded Sunday with calls to feed a growing global population and promote sustainable agriculture through new technologies, such as artificial intelligence, robotics and drones, and to increase cooperation among farmers, nonfarm businesses and academia.
Separately, a meeting between the U.S. and Japanese farm ministers Saturday failed to produce any breakthrough on lowering agricultural tariffs in Japan, which the U.S. wants reduced.
"The G20 meeting confirmed the importance of encouraging innovation in agriculture through the utilization of advanced technologies, including the latest information and communication technologies, artificial intelligence, and robotics," said Japan's minister of agriculture, Takamori Yoshikawa, at a news conference Sunday after the meeting.
The United Nations currently estimates the world's population at 7.7 billion, and predicts it will reach 9.8 billion by 2050.
Japan, facing the opposite problem, used the Niigata meeting to showcase high-tech developments that are being applied to solve problems in its own agriculture sector.
"In Japan, we face pressing issues like population decline as well as the rapid aging of society. Initiatives introduced at this meeting, in terms of best practices, include the development of new technologies such as 'autonomous driving' tractors and drones to survey fields," Yoshikawa said.
Set up outside the meeting room were displays from dozens of Japanese firms demonstrating their software and hardware technologies for the agriculture industry. Read More
Source: https://www.japantimes.co.jp/news/2019/05/12/national/politics-diplomacy/g20-farm-ministers-urge-high-tech-push-cross-sector-cooperation-feed-worlds-hungry/
Author: Eric Johnston
Image Credit: Kyodo