Tokyo, July 27th, 2018 – Much is said about the cleanliness of Tokyo – very rarely will you see litter in our crowded metropolis. Despite Tokyo being one of the world's cleanest cities, the city's surroundings beaches are in need of some TLC. For our inaugural CSR event, our team decided that as many of us spend our weekends down at the beach we should do our small part in repaying mother nature.
Upon arriving at Enoshima Beach, our team was greeted by surfers in the lineup (tough life for some…), a blazing sun and for those who forgot to bring sandals, blister-inducing hot sand!!
Armed with disposable garbage bags, metal tongs and traditional white "bullet-proof woolen" gloves the team spent the morning picking up litter along the 1km long beach. We quickly realized that a large proportion of the litter was not the doings of Tokyoites but was mostly made up of washed-up articles – fishing lines, boating equipment and the occasional rubber boot. This litter poses a real threat to the aquatic life and as a typhoon was due to hit the following day, most of this would have ended back in the sea. Good timing on our part!
After disposing of the litter in the pre-determined location, we enjoyed a nice cold brew as we strolled along the beach towards a local bar – where we were greeted by more beverages and a flaming BBQ. Over the next few hours, we drank, ate more meat and seafood than you could poke a stick at, lobbied to relocate our office to Enoshima and drank some more. We then ventured to another nearby drinking hole where we, yep – you guessed it, drank some more and watched the sunset over Mount Fuji – an awesome way to finish a day at the beach.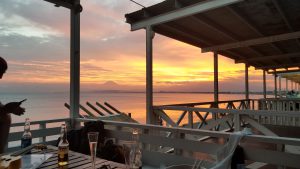 Taking a day off work and doing our little bit to clean-up our surrounding environment was a meaningful experience and the HCCR team is looking forward to continuing similar focused CSR activities in the future.