The new 5G communication standard will give all users of mobile data area-wide access to faster data connections. In addition to private applications like smartphones or streaming services, this will also offer huge opportunities for industry in particular. Industrial 5G enables the networking of machines and devices as part of the Internet of Things. With their own private spectrum and Industrial 5G solutions, manufacturing companies can make their plants more efficient, more productive, and more flexible.
Imagine the following scenario: In a factory, automated guided vehicles (AGVs) travel back and forth between the production lines carrying components, such as batteries for electric vehicles, to exactly the right place in production and at exactly the right time they're needed. Robots then work together to assemble the components. Throughout the entire production unit, countless devices are networked together, transmitting data from the whole production line in a matter of milliseconds. Field technicians use augmented reality glasses to receive instructions about which servicing activities they need to perform, and where. All this will be possible thanks to Industrial 5G, which illustrates how the new communication standard will open the door to end-to-end wireless networking as part of the industrial Internet of Things. Production, maintenance, and logistics will become more efficient, more productive, and more flexible as a result.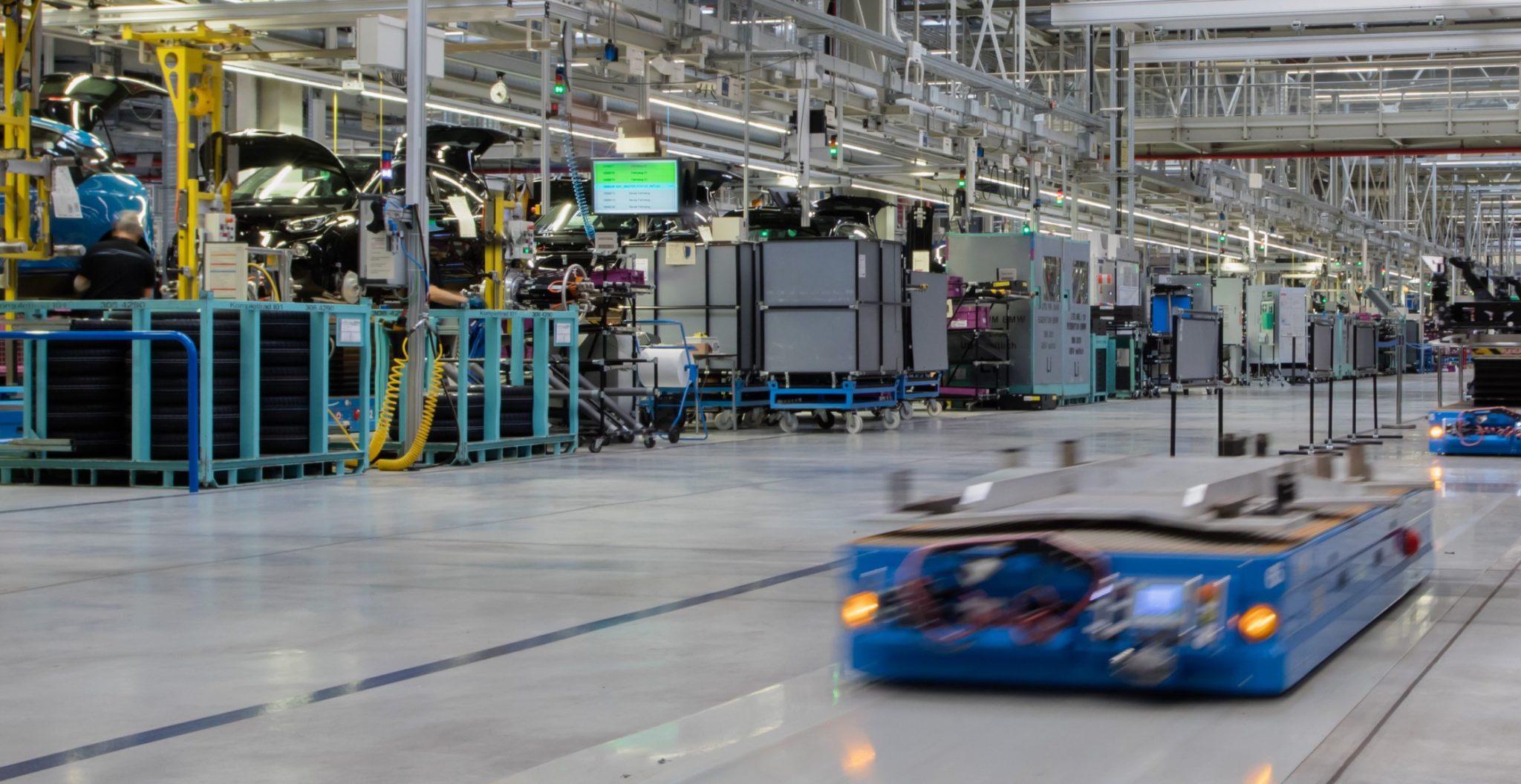 Three requirements must be met for 5G to become industry-ready and find its way into our factories: Large bandwidth, short latency periods, and the ability to connect a large number of devices in a particular space. With these parameters, Industrial 5G offers crucial advantages over earlier industrial networking systems, and smooths the way to new, trailblazing industrial applications. At a detailed level, these requirements can be considered as a triangle:
1. A large bandwidth or high data transmission rate is important for technologies that require high data rates for global, wide-area network coverage. Examples include wireless applications in the areas of Augmented and Virtual Reality, such as utilizing overlays in data glasses to convey important assembly or maintenance instructions to employees.
2. Low latency periods and reliability (Quality of Service) enable communication tending toward real time, with response times in the lower millisecond range. That's much shorter than with the current 4G standard, and sets the scene for sophisticated industrial applications like mobile robots, autonomous logistics, automated guided vehicle systems, and security applications. These latency periods are particularly relevant to industrial applications, but have not yet been achieved with the current state of the art. At the earliest, the next release of 5G technology will meet these requirements for real-time transmission.
3. The high number of connected devices in a particular space, which Industrial 5G will make possible in the future, will be especially important if devices are installed with a high density per unit area, without continuously sending or receiving. That's particularly relevant for the process industry, i.e. the chemical or pharmaceutical industry, for example, where many different sensors are installed to measure process data like temperature, pressure, or throughput.
Private networks in an industrial setting – first private, standalone 5G network from Siemens and Qualcomm
Not all of these three benefits will be available in full from the outset, however, and there are limits to how they can be combined: For example, opening up a large bandwidth to many participants will automatically reduce the quality of the latency periods. For industrial purposes, however, quality of service with reliable, real-time data transfer is a priority. That means it's a major advantage if companies can acquire their own frequency band for their private networks, which can be used only within the spatial limits of a particular location. In Germany, this has been possible since the procedure for applying for a local spectrum was published on November 21, 2019. Other countries are currently working on similar approaches.
Siemens and Qualcomm have now put in place the first standalone private 5G network in a real industrial setting at the Siemens Automotive Showroom and Testcenter in Nuremberg. The two companies are using the 3.7-3.8 GHz frequency band. Siemens provides the real industrial testing conditions and terminals like Simatic controllers and peripheral devices, while Qualcomm supplies the 5G test network and the associated test devices. Illustrated are the automated guided vehicle (AGV) systems mentioned above, which are used in the automobile industry, for example. New manufacturing opportunities and methods are also being developed, tested, and presented at the same time, before being put into operation for the customers. That means Siemens customers – such as AGV manufacturers – have the chance to experience firsthand how their products will work together.
A dedicated network like this can also be adapted to suit individual requirements; users can define the parameters in their networks to best suit the application. The most important aspect is that maximum data protection is possible only via a private frequency band: The data stays on-site, and production data and intellectual property are protected.
A local frequency band like this can also enable small and medium-sized enterprises in rural areas, for example, to utilize the benefits of 5G for the digital transformation of industry. Industrial 5G will be able to provide the opportunity for innovations, constructive competition and new partnerships in the industrial Internet of Things only when it becomes available to a sizeable group of market players with extensive application know-how.
Siemens drives forward Industrial 5G in its own plants and with industry-specific solutions
Siemens has supported the industrial implementation of the new communication standard from the outset. Specifically, that means we will introduce the technology into our own plants and make available a portfolio of products for industrial communication based on Industrial 5G. We are also developing Industrial 5G solutions that will make our customers' plants more efficient, more productive, more flexible, and thus more viable for the long term. That does not mean, however, that Siemens will act as network provider.
As a member of the 5G Alliance for Connected Industries and Automation (5G-ACIA), Siemens is working with other leading companies in the automation, manufacturing, and ICT fields to drive forward the 5G communication standard.
Trailblazing communication standard for the digital transformation
All these activities will help the new 5G communication standard to fundamentally change the nature of production in the manufacturing and process industries. In just a few years, as the technology advances, Industrial 5G will achieve data transmission rates and latencies that have previously been possible only with cable-based applications. Industrial 5G is therefore essential for the next stage of the digital transformation of producing companies, and thus also for ensuring the industry remains competitive in the future.
———————————–
Featured Article: 
Getting the right mindset to flourish in Japan
Understanding the Japanese interview process 
Preparing For Your Job Interview and Tips Before Accepting An Offer
Source: https://www.linkedin.com/pulse/how-industrial-5g-make-our-factories-more-flexible-klaus-helmrich/
Author: Klaus Helmrich