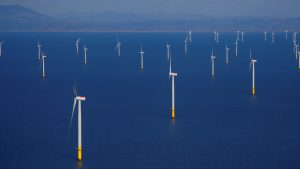 Japan enacted a law last year to promote the expansion of offshore wind farms. © Reuters
TOKYO — Offshore wind farms planned across Japan total 2 trillion yen ($18 billion) in project costs, Mizuho Bank estimates, offering lending opportunities for banks seeking to boost their environmental credentials.
The Mizuho Financial Group member and peers Mitsubishi UFJ Financial Group and Sumitomo Mitsui Financial Group are reportedly considering proposals for financing 10 such projects as lead underwriters. Offshore wind farms typically require financing from multiple lenders due to their high costs.
As coal-burning power plants face greater scrutiny from investors emphasizing so-called environmental, social and governance — or ESG — investing, wind power presents a way for banks to add more renewable energy to their lending portfolios. Japan's parliament passed legislation last year promoting offshore wind farms.
Mizuho's study covers 13 planned offshore wind farms that are…Read More
Source: https://asia.nikkei.com/Spotlight/Environment/Japan-offshore-wind-farms-offer-18bn-in-lending-opportunities?utm_campaign=RN%20Subscriber%20newsletter&utm_medium=JP%20update%20newsletter&utm_source=NAR%20Newsletter&utm_content=article%20link
Author: Yohei Hirose
Image Credit: Reuters