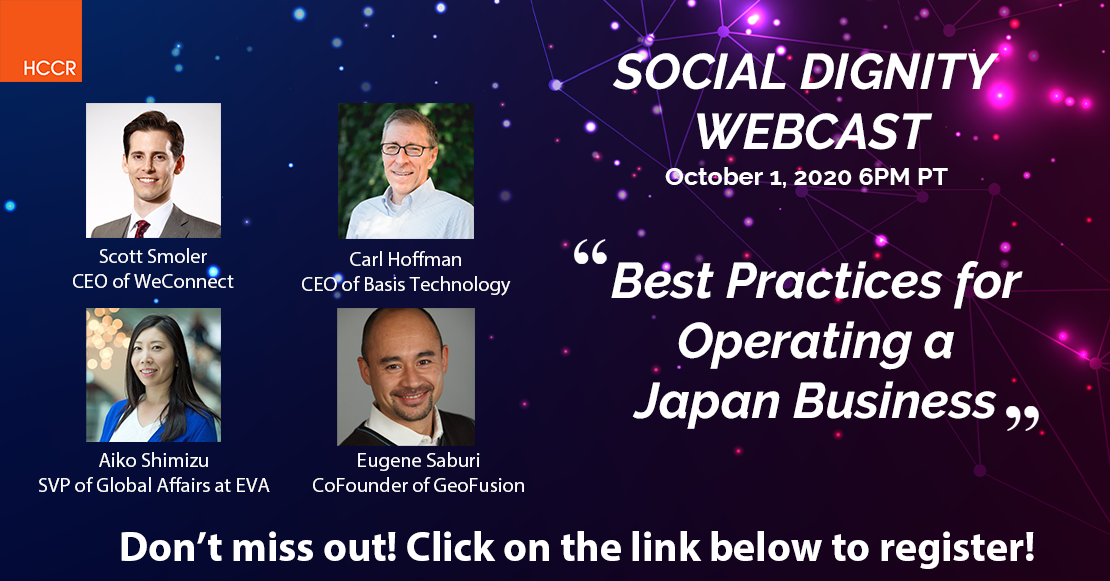 No one knows for sure when this pandemic will end, but what is certain is that love, life and business will go on. To adapt to the new normal, we need collective success, wisdom and inspiration at a massive scale.
Your network is your net worth. Keeping this principle in mind, we are building a new channel dedicated to captains, leaders, and champions of industry. Together we will share best practices with which "born global" companies can build their commercial, legal, compliance and human capital in Japan. The objective is to bring these practices together to share wisdom, guidance, ideas and stories of inspiration. Those who adapt and embrace the "new normal" will forge ahead; while those who resist will be left behind.
Core Audience
Local and Regional Business Leaders.

Finance, Operations, Compliance and Product Heads.

Cross-Border Advisors
Key Concepts
How are WFH policies impacting the analog and slower moving components of operating in Japan?

In a consensus driven environment, how are decisions being made?

How is the general work culture in Japan evolving from "whoever is working in the office the longest to distributed merits and norms?
Key Takeaways
Best practices and insight to optimize resources and operational excellence in Japan.

Open the kimono about the cultural nuance in the Japanese market.

Not only can your business survive, but it can thrive in Japan!
What To Expect:
An entertaining backdrop for business tips, tricks and potential blunders to avoid.

Education on how to best establish, implement and scale the right business model for the Japan market.

Expert insight to stay ahead of the curve.
What's Different:
Fun trivia format.

At the end of each round, the audience will decide who's insights are most relevant, thoughtful, and charismatic.

We will donate $1,000 to the COVID-19 foundation of the trivia champions choice!
Additional Links:
Meet the Experts:
Eugene Saburi, CoFounder
Eugene is Co-Founder of GeoFusion, an advisory firm company helping tech start-ups expand into Japan and China. As a former County Manager of Adobe Systems Japan, Eugene's business operations background provides a hands on approach to helping start-ups survive and thrive in Japan. He is focused on four pillars, products technology, go to market, legal regulatory, people and operations. Eugene currently lives in Seattle Washington.
Carl Hoffman – Founder & CEO at Basis Technology
Lifetime entrepreneur with focus on text analytics, cyber forensics, and cross-border ventures. Co-founder of Basis Technology and investor in Diffeo, Lucidworks, Luminoso, Polyswarm, Recorded Future, and Tamr. Created and deployed key enabling technology to Amazon and Google for their Japan market launches, and to Bing and Yahoo for their Asian expansion. Non-profit experience as business development director of the Free Software Foundation; director of the Unicode Consortium; and director of the Okinawa Institute of Science and Technology (OIST) Foundation. Spent formative years at MIT as a student, teaching assistant, and research assistant at the AI Lab and Project MAC.
Aiko Shimizu – SVP of Global Affairs at EVA
Aiko Shimizu is the Senior Vice President of Global Affairs and Strategic Partnerships at EVA, the developer of the world's largest drone charging station founded by former Tesla executives. Prior to EVA, Ms. Shimizu worked on various international policy and regulatory issues in the private and public sectors across the U.S., Japan and Germany, including at Daimler, Bloomberg and the United Nations. Ms. Shimizu received her graduate degrees from the University of Pennsylvania Law School and Columbia University's School of International and Public Affairs (SIPA). She received her Bachelor's degree in Political Science and International Studies from the University of Chicago.

Scott Smoler – CEO at weConnect
Based in Japan for over 10 years, Scott has helped more than 900 major multinational companies expand into Asia with incorporation, accounting, tax, and payroll services. Scott is currently the CEO of weConnect, a leading provider of incorporation, accounting, tax, and payroll services to companies expanding into Asia. He is a Lean Six Sigma Black Belt, which is the world's highest certificate in process design and management. His expertise has helped multinational companies streamline their back-office by applying advanced process improvement techniques and leveraging the latest technologies.