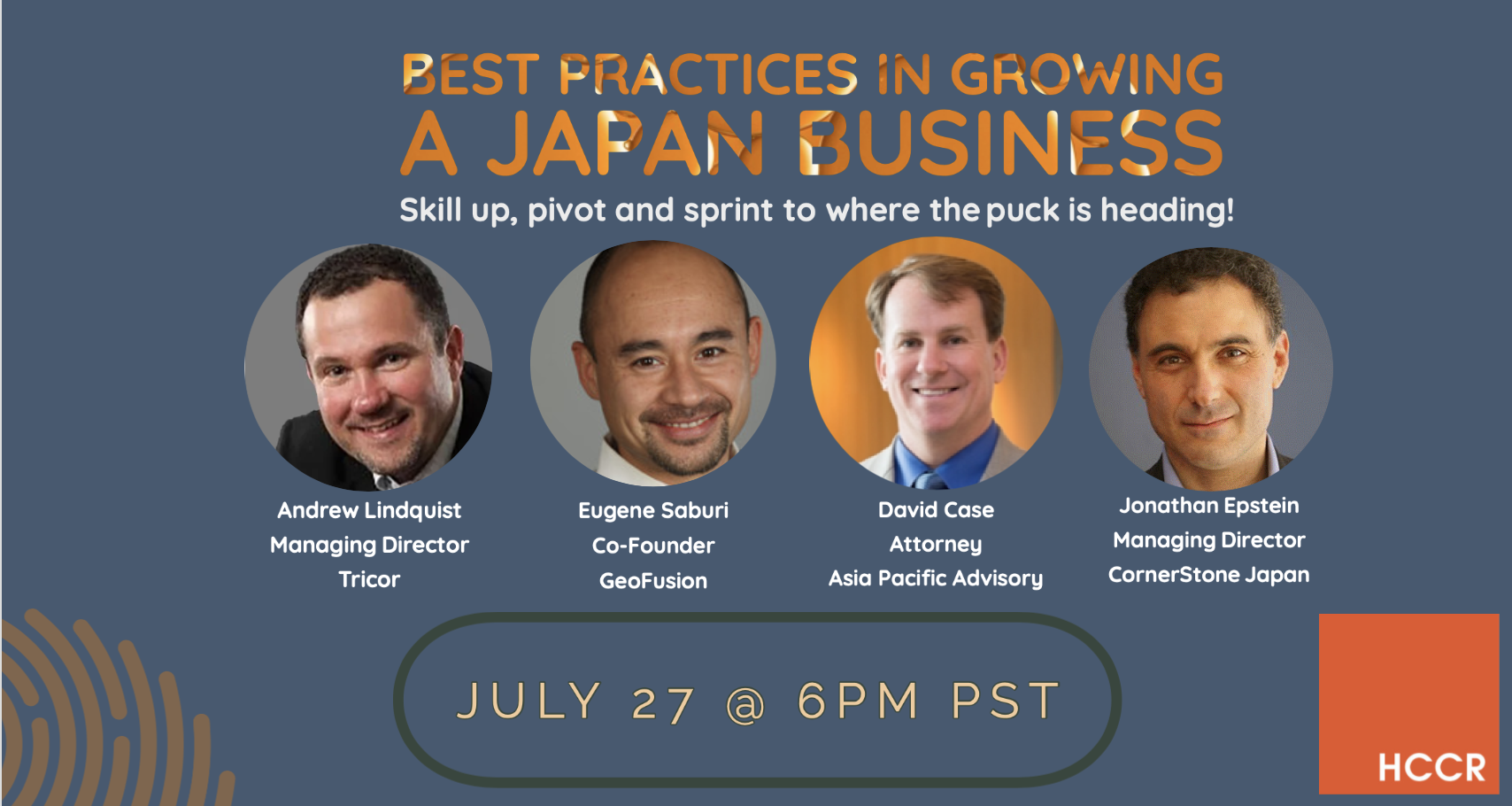 Perhaps the only thing we know for sure during the ongoing pandemic is that life, love, and business will continue; it's just a matter of being prepared to navigate the "new normal." With this idea in mind, HCCR started The Social Dignity Webcast to keep global business leaders, entrepreneurs, advisers, and visionaries informed as we shift to this new landscape. 
Our first episode Best Practices in Growing a Japan Business was a trivia competition between four renowned cross-border advisors. The winner received 1,000 USD which was donated to the Fred Hutchinson Research Center for COVID-19 research.
We hope you will tune in and find the program insightful and entertaining, and relevant for your business.
Below are the Top Five Takeaways: 
Understand the Japanese market
For companies operating in Japan who want to incubate groundbreaking innovations and products, it's important to keep in mind the social context and psychology of both Japanese consumers and businesses. Jonathan Epstein pointed out a number of globally successful companies couldn't find that same footing in Japan, mainly because they failed to localize the product in a way that is appealing to the Japanese consumer. Some foreign companies might find this intimidating, especially since they're generally outsiders trying to penetrate a culturally different market. Jonathan has proactive suggestions on how outsiders in the Japanese market can take a step back, look at what's going on, and find ways to innovate.
Understand work culture and requirements in Japan
The importance of hierarchy, consensus, collaboration, and cohesion deeply impacts the organizational structure in Japan. Andrew Lindquist discussed the ten work requirements that businesses must adhere to in Japan. The requirements are: Tracking work time and leave, methods of calculating wages, retirement allowances, matters regarding dismissal or resignation, expense policy, extraordinary wages, safety and hygiene, job training, workers' accident compensation, awards and disciplinary measures. David Case added that  employees are well protected under Japanese labor law. Companies don't have the absolute right to terminate employees and the employees know this. It's important to seek legal counsel for such matters so that your company can move on without disruption. 
High expectations for customer service 
An important component to product quality in Japan is customer service. Foreign companies don't pay enough attention to the Japanese demand for fantastic service when this is, in fact, critical. Companies must take a more holistic look at their products and how they can solve their customers' problems. Eugene Saburi believes that Japan has the highest standards for customer service in the world. If a company can consistently satisfy their customers in Japan, then replicate this model to other markets globally, they will be very successful. 
Take a long term view and be patient
Companies who are used to the speed of business in the US might be surprised by the slower pace of Japan. As companies invest in setting up a Japan subsidiary they typically have high expectations for uptake. As such, subsidiaries are often held under a microscope. While it's important to strive for excellence, it's equally important to manage expectations. Japan is slower to come to a tipping point, which means newcomers must have a longer outlook with respect to the revenue curve. Japan is a follower market; it might take a while to get there, but once you reach that tipping point, the rewards can be very lucrative. 
Be realistic about the challenges ahead
While the response to the pandemic has provided several opportunities for certain businesses such as remote training, distributed collaboration, telemedicine, food production and distribution and mobile applications, the broader economy is still trying to figure out how to pivot into new territory. Eugene discussed how a number of venture capitalists, private equity firms, and startups have deferred either investing in or entering Japan until the situation somehow pans out. Instead of investing in go-to-market resources, small companies and start-ups are focusing their investments on engineering so that when we finally come out of this economic standstill, they're already a step ahead with a product that is differentiated and more competitive. This might not be the same for bigger companies, but in general, companies have been putting off plans for larger operations.
HCCR is committed to helping our clients, partners and like minded professionals survive and thrive through these uncertain times. We help companies identify, attract and select the best talent for their organization in Japan. 
Please register for our next episode – Best Practices in Operating a Japan Business. 
———————————–
Featured Article: 
Social Dignity Webcast Episode 1: Best Practices In Growing A Japan Business
Understanding the Japanese interview process 
Preparing For Your Job Interview and Tips Before Accepting An Offer
Author: HCCR Digital Marketing Department