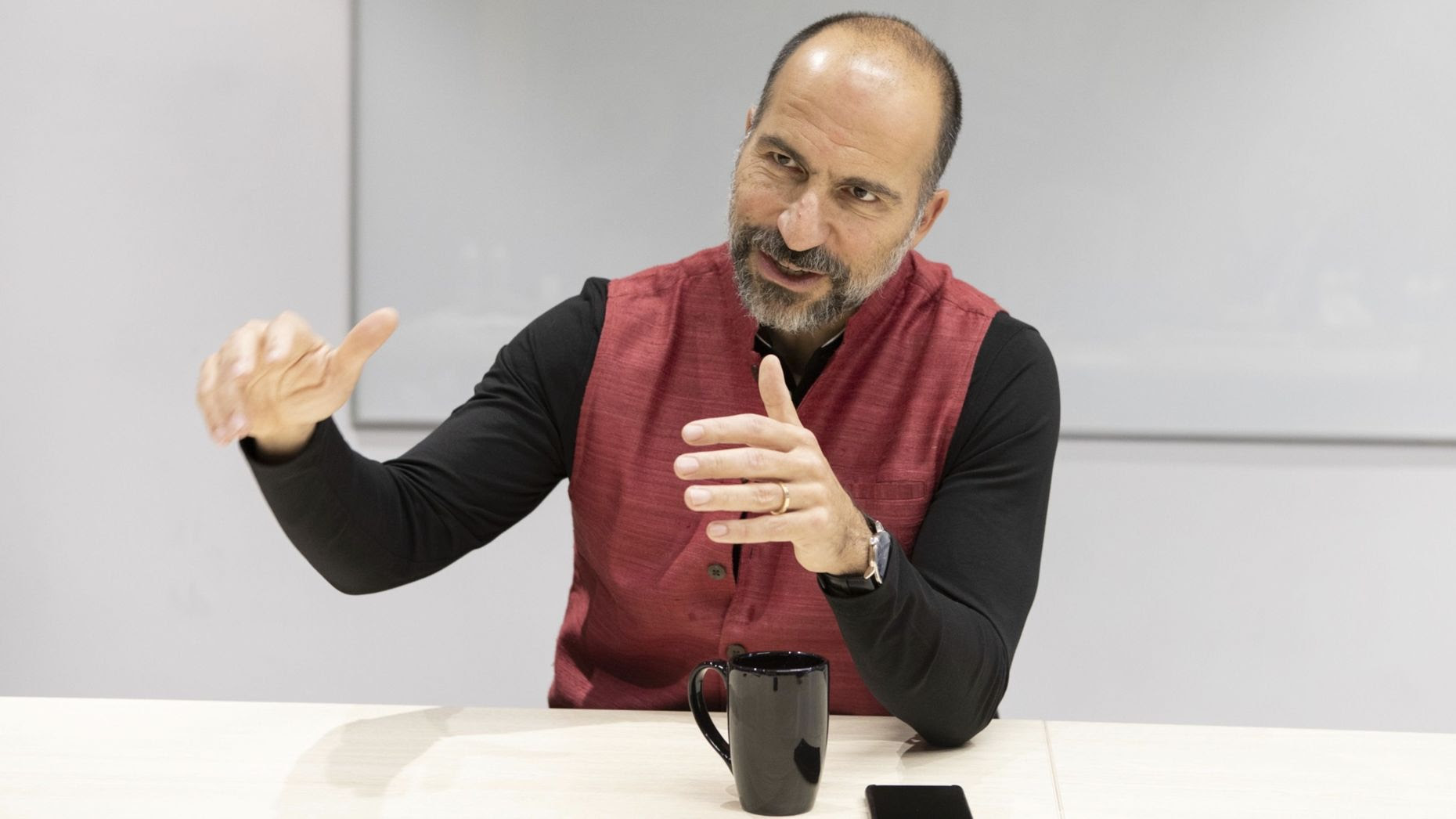 Uber CEO Dara Khosrowshahi. Photo by Bloomberg
Uber proved countless doubters wrong by showing, when it reported its third-quarter results last fall, that its ride-hailing business can make money. And as investors await the fourth-quarter numbers scheduled to be released Feb. 6, they've sent the stock soaring. It's as though they think the worst is over for the ride-hailing giant.
Those optimists should think again. Even if Uber's core ride-hailing business were to make significant financial strides going forward, our assessment is that it could take years before the cash generated from the business can justify the company's current stock price of above $37.
THE TAKEAWAY
Uber's stock has rallied 42% in the past two months but our analysis, using a reverse discounted cash flow model, suggests Uber's ride hailing business won't be able to justify the current stock price for several more years. And even that assumes Uber's optimistic projections about its long term results hold true.
That might seem like a harsh assessment. Even after the stock's recent rally from its low of $26 in mid-November to its close on Tuesday of $37.60, Uber stock is trading 16% below its IPO price. That in turn was well below what investors expected the company to be worth when it went public. Most Wall Street analysts are much more bullish—among 39 analysts, the average and median near-term "price target" for the stock is $44 per share, according to S&P Capital IQ.
Of course, Wall Street analysts as a rule look for reasons for investors to buy stocks, not for reasons for them not to. But to be fair, based on some measures, shares of Uber look reasonably valued. At the current price, Uber is trading at about three times projected 2020 revenue to enterprise value. Lyft, its smaller U.S. ride-hailing rival, is trading at around 2.4 times the same multiple. Grubhub, probably the other closest comparison, is trading at 3.6 times.
But valuing stocks based on comparisons to other companies in similar businesses makes sense when there's a decent number of comparisons—at least some of which have demonstrated a path to making money. Neither Lyft nor Uber has done that, so justifying one company's valuation by referring to another's isn't the way to go in this case.
Grubhub may be a decent comp, but it is part of a crowded on-demand food-delivery market supercharged by venture capital, which is not a rational market. Also, the possibility that it may get bought is elevating its valuation.
On a related note, valuing Uber on a multiple of its total revenue is in our view a mistake. Uber's food-delivery business, for instance, is losing money at an alarming rate. It's not clear when Uber Eats will be able to make money, at least unless it merges with one or more of its competitors.
Ride Hailing Focus
That argues in favor of valuing Uber in segments, starting with its ride-hailing business—and doing so by calculating the present value per share of the cash it's likely to generate over the next few years. That's what we did. It has the virtue of honing in on what Wall Street sentiment doesn't like about ride hailing: its giant losses and uncertainty about when they will come to an end.
The good news is that Uber has started to make money in ride hailing—not much, but a little bit. In the third quarter, it reported $631 million in earnings before interest, taxes, depreciation and amortization from ride hailing. This was excluding corporate overhead and technology costs to power its services. Uber reported $623 million of those overhead expenses overall. But ride-hailing accounts for only 82% of its overall revenue. So assuming that 82% of its overhead and technology is attributable to ride-hailing—$511 million—implies that Uber's ride-hailing business had Ebitda of $120 million in the quarter.
Thus, Uber's third-quarter performance translates to a net operating profit margin of 1% for the ride-hailing business, the first quarter in the black since the start of 2018—the earliest period for which Uber has disclosed such information. But to justify a price around $37-38, Uber would need at least a 13% to 14% net operating profit margin from around $20 billion in revenue, while growing at close to 20%, according to a valuation model known as a "reverse discounted cash flow" developed by equity research firm New Constructs, based in Nashville, Tennessee. We estimate Uber will get there in 2023, assuming it makes progress toward the long-term profit goals its executives outlined before the offering.
The New Constructs model calculates the economic earnings a company must generate to support a stock's current market price. Economic earnings are basically a measure of profitability known as free cash flow—the cash generated from a company's operations minus the cost of capital expenditures such as buying computer servers to run the business. New Constructs based the model on its analysis of the historical earnings and corresponding stock prices of thousands of companies.
We used the model and made some assumptions about the next few years to estimate when Uber's per-share value would get close to where the stock is now. We assumed that revenue growth would slow from 25% in the coming 12 months to 18% by 2023—and that may be generous. One way Uber has maintained revenue growth lately is through raising prices, which has had the impact of slowing growth in terms of number of rides in the U.S. market.
We also assume a steady increase in the net operating profit margin to 16% by 023. That also may be generous. Recent legal and regulatory hits, as well as threats to its business, have raised questions about Uber's ability to expand profit margins in the long run. For instance, the California law requiring companies to treat contractors as employees prompted Uber to experiment with letting drivers set their own prices and see the destination before accepting a trip. If widely adopted, this approach could mess with the efficiency of Uber's service and squeeze its profit margin.
One reason why many Wall Street analysts argue Uber stock is undervalued is because they're optimistic about Uber's revenue and profit growth potential. For Uber executives and stock analysts, "the underlying assumption…is that if a company can achieve break-even, it obviously can continue profitable growth. But why?" said Len Sherman, an adjunct professor at Columbia Business School who has been a longtime critic of Uber's valuation.
"No company has ever pulled off the epic turnaround on the scale Uber requires" to get to "sizable positive cash flows" without first shrinking itself by cutting unprofitable operations, Sherman added.
Uber Eats
For this analysis, The Information put a $6 billion value for Uber's minority equity stakes in other, privately held ride-hailing companies. That is down from the $12 billion or so value that Uber placed on those stakes around the time of its IPO. Uncertainties about some of those businesses, including Grab and Didi Chuxing, justify halving the earlier value.
The biggest hole in The Information's analysis concerns Uber Eats, the food delivery app that makes up about 12% of Uber's revenue. It's extremely difficult to put a value on Uber Eats, given its growing losses and uncertainty about when those will end. The service likely lost $1.2 billion before taxes, depreciation and amortization in 2019, according to Uber's results for the first three quarters of the year. The company said that in the third quarter of 2019, 15% of Uber Eats' gross sales occurred in competitive regions and accounted for half of its Ebitda loss.
Uber is looking to offload its worst-performing Uber Eats operations, as it just did in India, so if we eliminate those poorly performing regions, that shrinks Uber Eats' revenue by about $200 million for the year. That would mean the service could have generated nearly $1.2 billion in revenue and lost roughly $600 million in Ebitda terms. But applying 12% of Uber's corporate overhead and tech costs to Uber Eats would increase that annual loss amount to at least $800 million.
So the question is, how much future value should we ascribe to Eats? One approach would be to play out some consolidation in its biggest market, the U.S., and assume that that would lessen the amount of money Uber Eats must spend to compete. It would be easier to assign a value to Uber Eats if it were to merge with a rival such as online food-ordering pioneer Grubhub. It is roughly the same size as Uber Eats in terms of revenue (though most of its business is based on the commission from taking orders rather than fulfilling the delivery), is marginally profitable, is growing half as fast as Uber Eats, and has a $5 billion market capitalization.
Considering that a merger might help both entities save money because they would primarily be competing with DoorDash, it could make sense to put a $2.5 billion to $5 billion value on Uber Eats as part of the combined entity, for the moment. We split the difference and assumed Uber owned a minority stake, worth $3.7 billion, in a food delivery unit.
Some analysts also have placed a combined value of more than $10 billion on Uber's autonomous vehicle R&D and scooter and bike rental divisions. But we'd argue it is pointless to ascribe any value to these businesses, given how they're performing. New data show that Uber's rental divisions have lost money at a much faster rate than the startups it is competing against. And recent reporting shows the R&D group has no clear path to commercializing the nascent technology.
The only other question mark concerns the fast-growing Uber Freight business, which recently accounted for 6% of Uber's revenue. But in the first nine months of 2019, its loss before interest, taxes, depreciation and amortization amounted to 31% of the Freight revenue. So it may be too early to calculate the potential value of Uber Freight.
Uber has had some success in shifting the perception of its core ride-hailing business from "can it ever make money?" to "how much money can it make?" Now the doubters will focus on its long-term value as a public stock—and for good reason. Given how much cash Uber's core business will need to generate in the future, the company still has a mountain to climb to justify its stock valuation today.
———————————–
Featured Article: 
Getting the right mindset to flourish in Japan
Understanding the Japanese interview process 
Preparing For Your Job Interview and Tips Before Accepting An Offer
Source: https://www.theinformation.com/articles/why-ubers-stock-rally-doesnt-make-sense
Author: Amir Efrati and Martin Peers